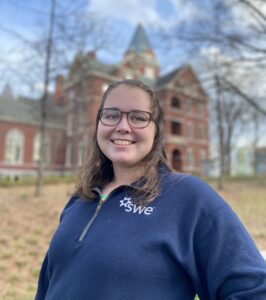 C'lee Kornegay, President
Civil Engineering, 4th year
Hometown: Thomasville, GA
Email: swepresident@gmail.com
Description of Position: The President serves as the liaison between the Exec Board, chairs, general members, advisor, and Society.

Favorite SWE Memories: Going to Disneyland with SWEeties during WE19 in Anaheim and our Pie an Exec fundraiser in fall 2019!

Other Involvements: GT Marching Band, Chip Epsilon, ASCE, PLUS Mentor/Learning Assistant with Tutoring and Academic Support

Career Goals: I hope to get my Professional Engineer license, sign off on my own project, and become a project manager!
---