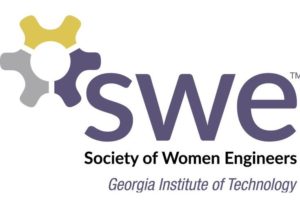 WE20 Awards: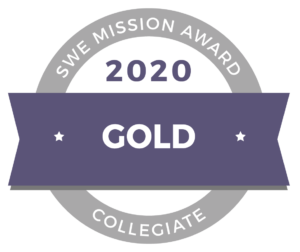 Since its establishment in 1958, Georgia Tech Society of Women Engineers has actively given women engineering students a unique place and voice within the engineering industry. Our organization is centered around a passion for our members' success and continues to evolve with the challenges and opportunities reflected in today's exciting engineering and technology specialties. GT-SWE is an active and diverse student run organization composed of approximately 500 undergraduate and graduate members. Our members reflect the diverse engineering and applied science majors on campus.
Georgia Tech SWE is:
One of the largest collegiate SWE sections in the United States
A National SWE Gold Standard Excellence Winner
A National SWE Winner for Best Industry, Professional, College, and Academic Partnerships
A contributor to Georgia Tech's engineering success:

GT is the leading producer of female engineers in the country
GT has the 4th best undergraduate and 8th best graduate engineering program in the US
We invite you to explore the values, principles, and priorities that guide our initiatives and learn how together,
WE can continue to make a lasting impact on the future.
Values:
Integrity – We aspire to the highest level of ethical behavior as evidenced by honesty and dignity in our personal and professional relationships and responsibilities.
Respect – We acknowledge gender, ethnic, cultural and other differences, and strive to respect the added values they bring.
Mutual Support – We provide an organization that fosters mentoring, and the development of professional and personal networks.
Professional Excellence – We conduct our activities in a professional manner, demonstrating and demanding the highest standards of business practices.
Diversity Principles – At SWE, we acknowledge and respect the value of a diverse community. We recognize that the scope of diversity includes race/ethnicity, family status, age, physical abilities, sexual orientation, socio-economic status and occupational focus. Our society will maintain an environment that is supportive of these elements and we will promote inclusion within our organization and the engineering community.
We Commit To:
Ensuring that all by-laws, policies, and charters support SWE's commitment to diversity.
Aligning with and participating in those activities and organizations that encourage all dimensions of diversity.
Developing women in engineering across socio-economic strata and occupational focus.
Encouraging the interest and active participation of women and girls of under-represented ethnic groups, including African-Americans, Asian-Americans, Hispanics, Pacific Islanders, and Native Americans.
Providing support to women which acknowledges and respects differences in family status, sexual orientation, age, and physical abilities.