Dharani Balakumar (1st Choice)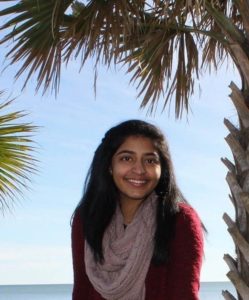 Year/Major: 3rd Year, Biomedical Engineering
Position: VP of Campus Relations
Bio: I am running for the VP of Campus Relations because I want to promote our organization amongst GT students and make students aware of what we have to offer through FASET and connecting more with other organizations. As Engineers Ball Chair, we have increased the number of attendees this year, and I hope to continue contributing in organizing this event and raising more money to help local charities.
Testimonials:
Dharani served as the EBall chair this past year as a part of our Campus Relations team. She worked diligently with her co-chair to plan SWE's annual Engineer's Ball which gathered the largest attendance and raised the most for charity in GT SWE history! Dharani printed out more than 600 flyers which she worked hard to hand out and distribute across campus. She would be a great fit for VP of Campus Relations.

Gabby Gershon
After spending these past two semesters getting to know and work with everyone on the events team and witness Dharani in action, I have confidence in her abilities not only because of her skills but also her passion for SWE. While preparing for the Engineer's Ball, I saw first-hand her strong vision, innovation, and dedication. That's why moving forward as she continues to grow and become involved in SWE, I am assured she will excel and continue to be a strength to the team.

Lauren
Katie Weatherwax (1st choice)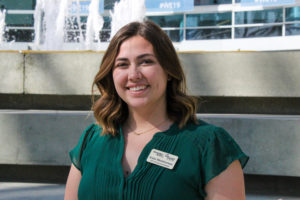 Major/Year: Electrical Engineering, 2nd Year
Position: VP of Campus Relations
Bio: I am running for VP of Campus Relation to create better communication between the executive board, SWE members and the GT community. As VP of Campus Relations, I would like to send out emails to the presidents of organizations in order to advertise our events outside of just our community itself.
Testimonials:
This past year, Katie worked to send out weekly newsletters and manage the SWE social media accounts. I observed how she diligently collected 'Pink Flamingos' each week and made sure that each week a newsletter went out that included each and every one of SWE's upcoming events. Katie also went out of her way to help the Campus Relations team this past year with EBall decorating. She is passionate about SWE and would be a good fit for the VP of Campus Relations.

Gabby Gershon
I loved working with Katie on exec this year. She was always on top of her responsibilities and her effervescent personality was infectious. I could always count on her help, and events are always a blast when she is around. She knows the ropes of VP Comm. and did a fantastic job making sure all events were promoted. She has awesome ideas to bring to VP campus that I know she will make happen. She is a kind, hardworking, and dedicated SWEster and she is an integral part of the exec team.

Bekah